Many of my home-buying clients look at antique homes attracted by the fine architectural details plus the charm of a bygone era. Quite often when going to furnish the home, they search for an antique bed to be the center attraction of their master bedroom. With this task in mind, I invited a guest blogger from SleepHelp.org to provide some insights on what to keep in mind when purchasing an antique bed.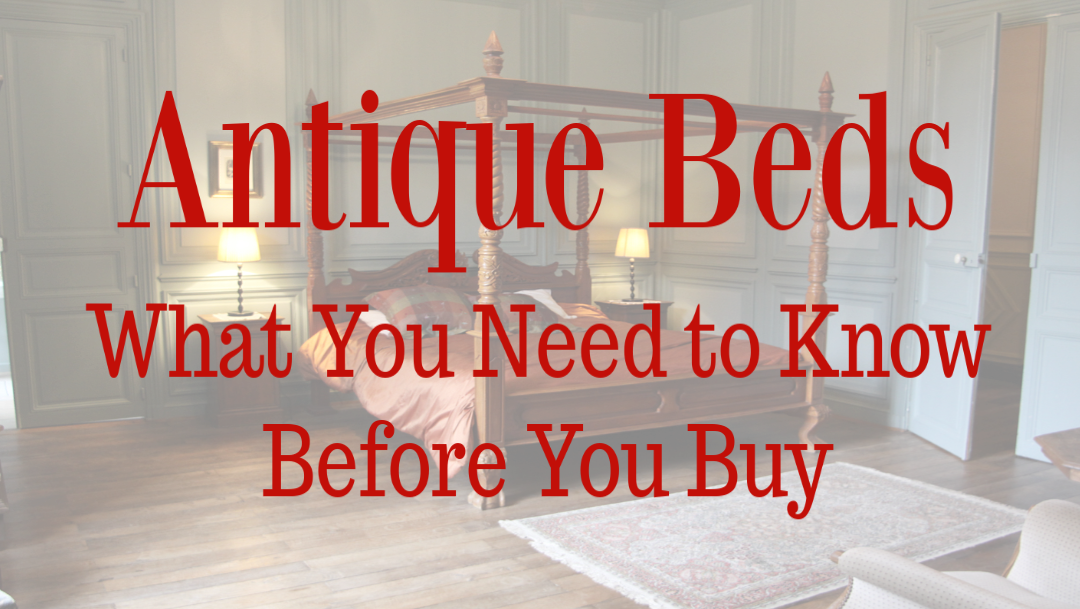 Antiques add character and class to your home. However, they come with some unknowns that could haunt you if you're not careful. There are a few things you need to know before investing in an antique bed. As the largest piece of furniture in the bedroom, beds are not only invaluable to the quality of your sleep but they create the focal point of the room.
Antique bed frames come in many unique sizes, styles, and heights, which is one of the reasons it can be so hard to find the right one. Bed frames and mattress sizes were not standardized until the 20th century. Bed frames were often custom-made to fit whatever size the carpenter or customer wanted. Mattresses were then made to fit the bed frame.
You may have to custom order a mattress to fit an unusually-sized bed frame. Custom mattresses can be ordered from a brick-and-mortar store or online. Double check your dimensions so you're not left with an expensive mattress but doesn't fit your bed frame.
Your other option is to alter the frame hardware to allow the frame to fit a modern mattress size – king, queen, full, twin. If you have the skills, you can manufacture rails and hooks that attach to the original head and footboard. For the right price, you may be able to find someone with welding and/or carpentry skills to alter the frame for you.
Antique bed frames are also higher than modern models. Today, the average bed height is 25 inches while antiques may be up to 36 inches. If you have a deep mattress, you may feel like you have to climb aboard to get into bed at night. On the other hand, if you're taller than average, the extra height might be just what you need.
Safety usually needs to considered with antiques. Check wood bed frames for any rot or deterioration where the hardware attaches to the wood. Cast-iron frames should be checked for rust. While rust may not be a deal breaker, if you want to use the bed frame in a child's room, rust may end up in a lot of places besides the bed if you're not careful.
In your search, you may run into a lot of reproduction pieces. That might not be a problem if looks are more important to you than authenticity. However, if you want a true antique, you'll need to check the bed for trademarks or stamps that identify the manufacturer. Sometimes these marks include the manufacture date while others simply identify the manufacturer. If you want to narrow down the date, antique books list designs by the manufacturer.
Consider how the design of the bed will affect the look and feel of your bedroom. If you're going to sell your home in the next few months, a small room with an antique four-poster bed will look even smaller. Cast-iron frames, on the other hand, can help a space feel bigger. Antiques should fit the proportion of the room as well as the interior design and complement the rest of your bedroom.
Finally, a bed should support high-quality sleep. It's important that all aspects of your bedroom help you get the full seven to nine hours of sleep you need every night. With the right frame, your bedroom can be an inviting retreat in which you can't wait to spend your nights.
Samantha Kent is a researcher for SleepHelp.org. Her favorite writing topic is how getting enough sleep can improve your life. Currently residing in Boise, Idaho, she sleeps in a California King bed, often with a cat on her face.